Welcome to our website!

We are a group of Minnesotans from all over the state that visit Alabama, primarily during the winter season.  Why would we want to leave Minnesota in the summer?!?!  We are the land of 10,000 lakes, at least 10,000 mosquitoes and boast that we have the most golfers per capita in the entire US.

We meet as a group November - March in our "home away from home" state of Alabama.  We golf, we volunteer and we just plain have fun.  

Check out our other pages for events and happenings while in Alabama.

Minnesota club members along with winter visitors from other states,  are ACTIVE and participate in many fund raising activities that benefit local libraries, fire departments, Gulf Coast Zoo and other organizations.  

We are always looking for volunteers to help us with these events and our own club events. Click on the Blue Volunteer Button above and email your interest.  Need to know more about the duties, click the Blue Volunteer Duties above. 

Join us on Facebook "Minnesota Alabama Club" for news, notes and comments from our members and friends.  See the link above near the top.

Enjoy our site!

revised 11/21/2023



Minnesota Summer  Alabama Winter Club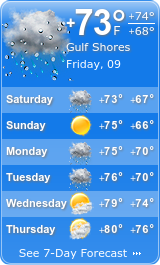 ​All general inquiries for this site can be done by clicking on the "Contact Us" icon above or the "Contact Us" icon on any page.  Complete the form and send message.  We will try to respond within 48-72 hours.

Each year a Roster is developed which indicates how each of us can contact others during their stay.   As a member of the club, you may contact specific members directly via the club roster available to members after signing the roster.    This roster may only be used by members for the benefit of members.  We do not/and will not sell our roster to anyone, anytime.  

No solicitations are accepted.  

​Contacts:

Web Designer & Web Maintenance:  N. Poferl




URGENT NOTICES:

Next breakfast Jan 16, 2024!  Register by January 9th, 2024

2024 Golf Calendar is now on the Recreation page - reservations begin Dec 10th, 2023.